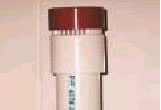 The Air Admittance Valve is a fire-rated air vent that saves money for plumbing contractors and owners in two ways. First, the new product will serve as an individual stack vent or replace circuit and branch venting. Second, it is part of a fully tested firestop system when used with ProSets fire rated sleeve couplings.
The device has been tested in accordance with the ASTM E-814 fire standard for pipe penetrations and in accordance with ASSE 1051 and NSF 14 plumbing requirements.
The Fire Rated Air Vent is made of a Hi-Temp, Fire Resistive PVC resin. It was tested at Warnock Hersey fire testing laboratory and passed both the U.S. Standard ASTM E-814 and Canadian Standard CAN/ULC S115. The tests were conducted through poured and cored concrete floors as well as a wood floor/ceiling assembly.
These tests results can be found in the Intertek Testing Services (Warnock Hersey) 1999 Directory of Listed Products. See Design numbers PS/PH 120-08 for poured or cored concrete and PS/PH 120-09 for fire rated wood floor/ceiling assemblies.
The Fire Rated Air Vent can serve as a venting terminal for an individual stack vent, branch vent or in circuit venting of various fixtures. The air vent valves take the place of the normal vent piping required to vent a plumbing drainage system.
When a horizontal drainage branch serving various fixtures connects to a stack having more than four branch intervals above the said branch piping, a relief vent must be added and directly connected to an outside air vent stack. The maximum height of drainage piping that can be stack vented using ProSets Air Admittance Valve is six branch intervals (or in accordance with local plumbing code requirements).
This heavy duty PVC valve will also hold 20 lbs. Hydro-static test which means that it can be installed along with the rough-in DWV plastic or metallic piping with no extra labor for additional work required with other valves on the finished hook-up.
ProVent Systems, Inc. will provide engineering drawings laying out recommended plumbing designs to provide a good piping, drainage and vent system. The drawings can be submitted to the local code authorities. The layout will eliminate all the normal branch vent piping and will include proper firestop penetration devices for other plumbing openings such as bathtubs, showers, closets and drain stacks.